GST CENTRE ®
is looking for Associate Trainers to top-up our current energetic, hardworking and highly skilled faculty across India for our new vertical. Persons from anywhere in India can apply for this position.

At GST CENTRE ® we deliver best-in-the-world GST training. This ranges from Law, Rules and Procedures and Practical Training which gives Hand-on Training to our learners with our own Learning Management System, Software and other learning tools. We're looking for highly accomplished trainers with a solid background in GST and related subjects.

The following FAQs will help you to better understand regarding our programme. We immediately require 100 Freelance Trainers across India in our First Batch. We will be training, assisting and promoting you throughout the project.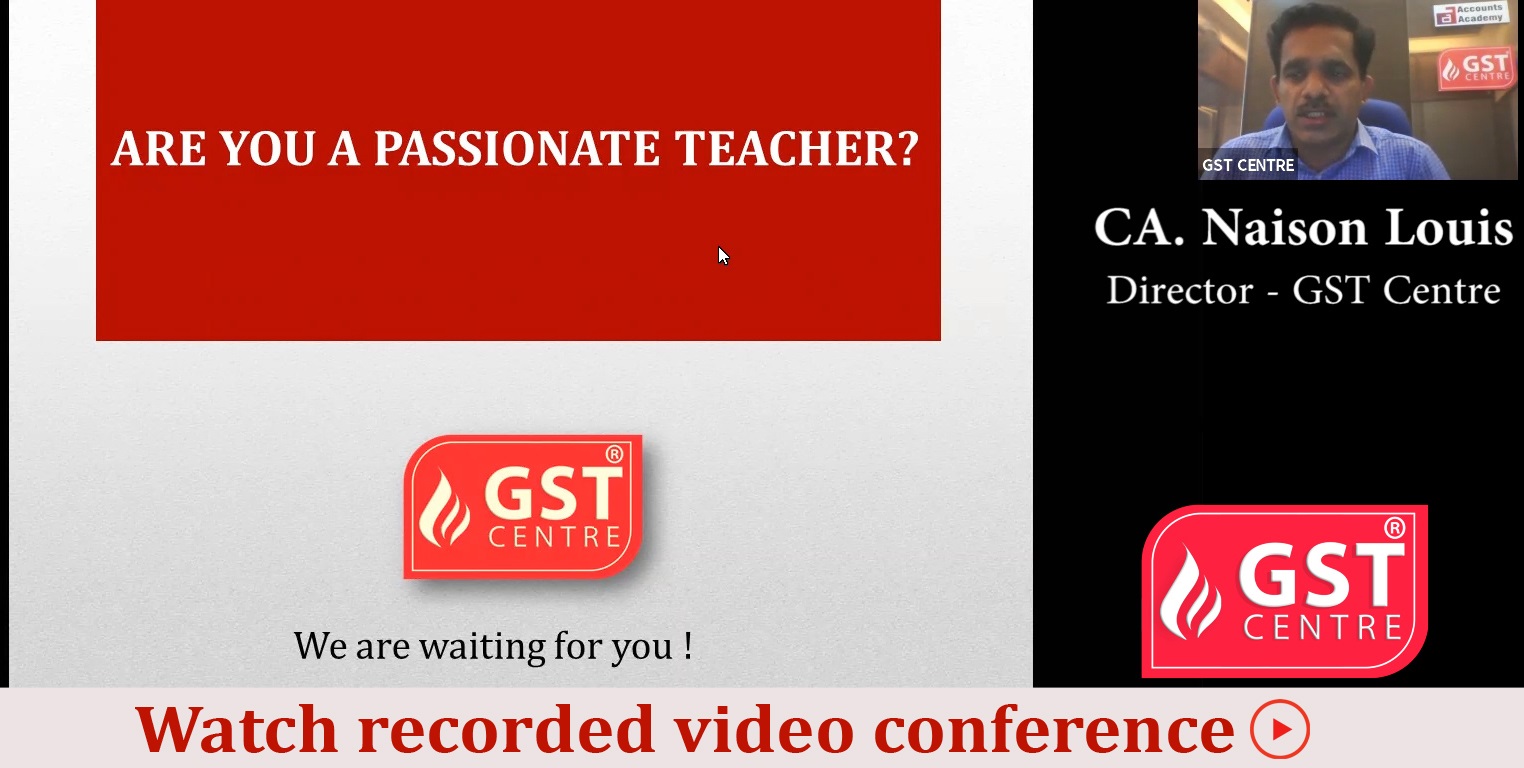 FREQUENTLY ASKED QUESTIONS
1. What is the minimum requirement to become a Trainer?
Person should have a proven track record of providing outstanding training and coaching to individuals and groups in a formal training structure with exposure to different industry sectors in any subject related to Accounts & Finance.
2. What are the various skills and abilities you are looking for in a Trainer?
The Trainer should have the below skills and abilities.
An authentic, natural delivery style.
Professional communication skills including speaking, networking, presenting and writing.
Trainable – not "set in your ways", open to feedback, performance improvement and for us to coach you to become world class.
An interest in helping others, adult learning and education.
Well organized – it makes life a lot easier if trainers are good with their "back office", meaning they have effective systems and respond to calls and emails promptly.
3. What are the main strengths looking in a Trainer?
The Trainer should have the following strengths. If you lack in any of these criterias, our R&D team can train you.
Bachelor's Degree level education.
Happy to travel, sometimes at a moment's notice.
Well-read and educated and evidence of self-development.
Be proficient with video technology including filming, uploading and transferring, Skype coaching, webinars.
Strong knowledge of competitive training company offerings and methodologies.
4. Is it a Full time Job?
No. It's mainly a part time job. Only few days are required for Training based on specific requirements from client. But you have also a chance to become Full Time Trainer later if interested based on performance.
5. How will I get the Training Assignments?
GST CENTRE ®
can allot Training Assignments based on the requirements received from its various clients. At the same time you can also bring clients for which you will be rewarded separately. We will train you how to get clients.
6. How can I learn GST or make my knowledge suitable for Training?
Our R&D Team will help you to become a Great Trainer with full time support. We will first start with an Online Training Programme in GST for one month. And at the end of the Programme, you have to come for a Residential Training Programme which will be conducted in major cities in India. During this Training Programme, we will give important modules on how to become a Good Trainer in GST. We will also introduce you to Learning Management System and Software required for training clients. At the end of both programmes, you will be certified as Trainer after an exam.
SI No.
Training
Duration
Fees
1
Online Course "Certified GST Trainer" on GST. Online Course with Study Materials
and Self Examination Questions. Visit www.accounts.academy
One Month
Rs. 4,990/-
2
Discussion over the Project and Preparation / Orientation (Can take any suitable location & dates) At Bengaluru, Mumbai, Delhi and Kolkata.
2 Days Residential Programme
Rs. 5,000/- (Not to be Paid. This can be only when First Assignment is allotted)
3
Certification after Exam and Enrolling.
Online Exam
Nil
7. Whether I will be required to travel to various places?
It is your choice. If we find suitable requirements, we can inform you. Travelling and Stay arrangements should be done by you unless it is otherwise decided by the company.
8. How many days I may need to spend on Training?
It depends on how many Training Programmes you can deliver. You don't want to be a Full Time Trainer. Few days in a month will be good. Won't be relying on us for an income – have a successful income stream already, and Natural is just a "top-up" few days per month. Have 4-6 available days per month. We ask you to let us know your availability quarterly in advance, and we expect you to keep us updated if anything changes.
9. How GST CENTRE ® will help me as a Trainer?
GST CENTRE ®
will give you full support to become a Trainer in GST. It include
a) Learning the Programme.
b) Residential Programme on becoming a Trainer.
c) Certification as GST Trainer.
d) Giving various Training Assignments.
e) Giving Education Tools as Learning Management System, Study Materials, Software and other Tools.
f) Guiding you to get more Training Assignments.
g) Dedicated Relationship Officer.
It comes with a full solution for becoming a GST Trainer.
10. How to apply as a Trainer?
SUBMIT ENQUIRY
To apply the following steps can be taken.
a) Join for Online Course "CERTIFIED GST TRAINER" at
www.accounts.academy
b) Please film a short video (2-3 mins) answering the following: "Why I would be great as a GST Trainer?". Please upload this video and send the link to
gstcentre@gmail.com
including your CV as an attachment. You can also send the video by Whatsapp to +91 9809 999 333.
Note – please send the link to the video, not the actual video file due to email file size restrictions. Please don't worry too much about quality – if you are busy, a bit of footage on your mobile will do! We will be in touch if you are through to the next stage, which will be either a phone or face-to-face interview. Note – we will not be accepting any applications without a video link.