LEARNING KIT
GST CENTRE ® is the First and Best Trainer of GST in India.That's why we call as "Where India learns GST"
Now GST CENTRE ® has launched a Learning Kit for Students to experience best learning.
IMPORTANT POINTS FOR LEARNERS
1. All GST CENTRE ® approved courses will be done only with the Learning Kit.


2. Learning Kit comes with Study Materials, Pen Drive – Video Tutorials, Simulation Software, Note Book and Seed Pen.


3. This Kit will be available for Self Learning at MRP Rs. 6,500/- only.


4. For Direct Class Room Training, Advisors can collect additional charges for Faculty Charges.


5. All students will get Certificate from GST CENTRE ® and National Council for Technology & Training, New Delhi.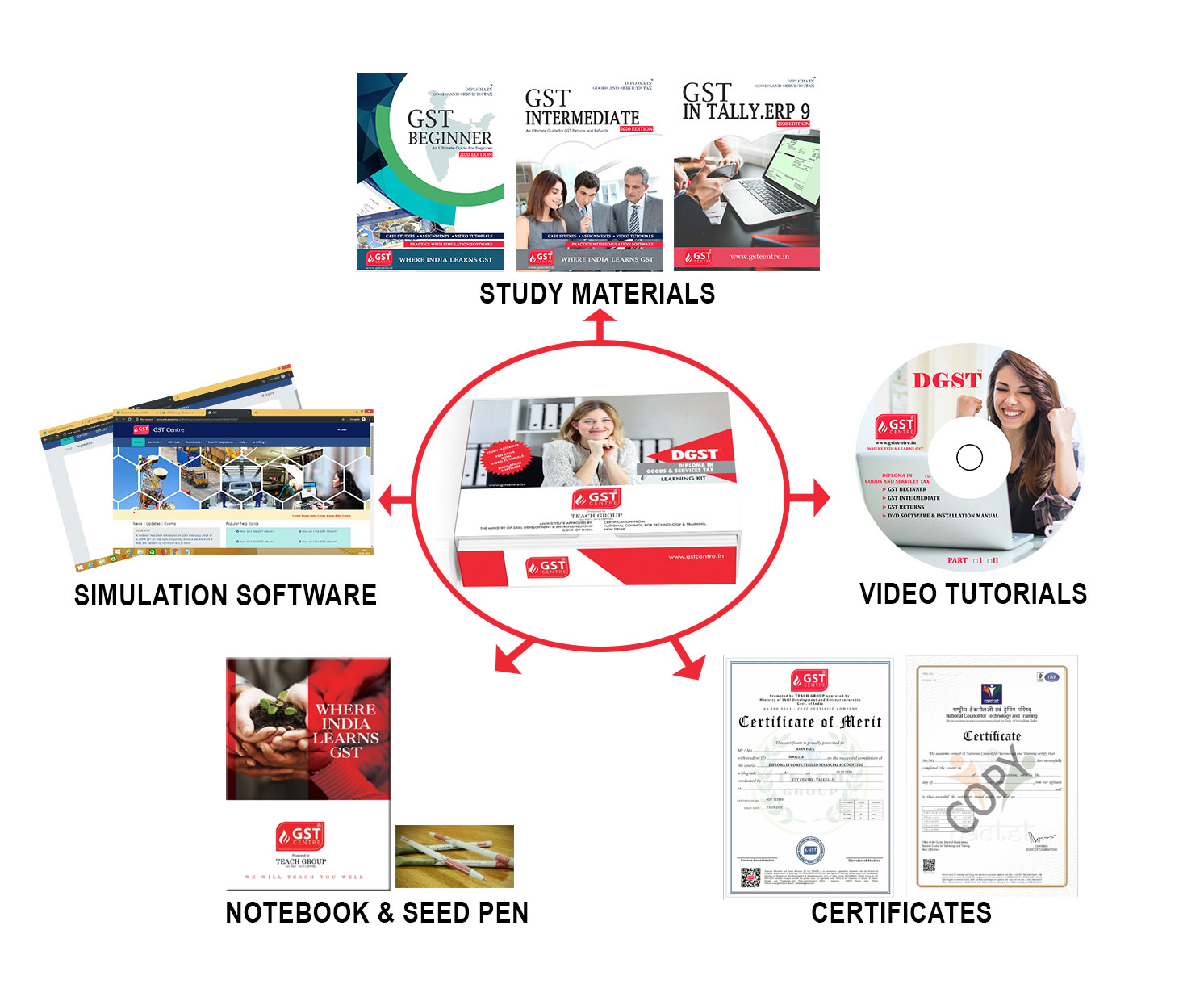 Price Rs. 6,500/- (Including GST)
Partners please contact 9809 999 333
If any programme is conducted without this Learning Kit, learners are advised to inform us at ceo@gstcentre.in or Mobile No. +91 9809 999 333.
COMPONENTS
 Study Materials
We provide Printed Study Materials for each course. We support our students with Printed Study Materials. Study Materials are prepared by Chartered Accountants / Tax Experts.
 Pen Drive with Video Tutorials
We are providing a Pen Drive which is highly secured and contains encrypted Video Tutorials. It runs in laptop of the Student for six months.
 Simulation software
We provide Simulation Software in which students can do practicing various tasks related to GST. We are facilitating registration, tax payment, e-way bill, return filing etc. through this software. Students will be excited to get such a hands-on training.
 Note Book
 Seed Pen – In Association with Pure Living
Certificate from
 GST CENTRE ®- Promoted by TEACH GROUP, Approved by Ministry of Skill Development & Entrepreneurship, New Delhi.
 National Council for Technology & Training, New Delhi.