DIGITAL INFRASTRUCTURE FOR GST KNOWLEDGE
An initiative with the National Council for Technology & Training, New Delhi.
Explore GST CENTRE's world of FREE GST Learning

GST CENTRE platform offers engaging learning material, relevant to the prescribed college curriculum, to teachers and students. Download the GST CENTRE app and start learning GST for easy access to all your lessons.
This Mobile App "GST CENTRE" is available in Play store.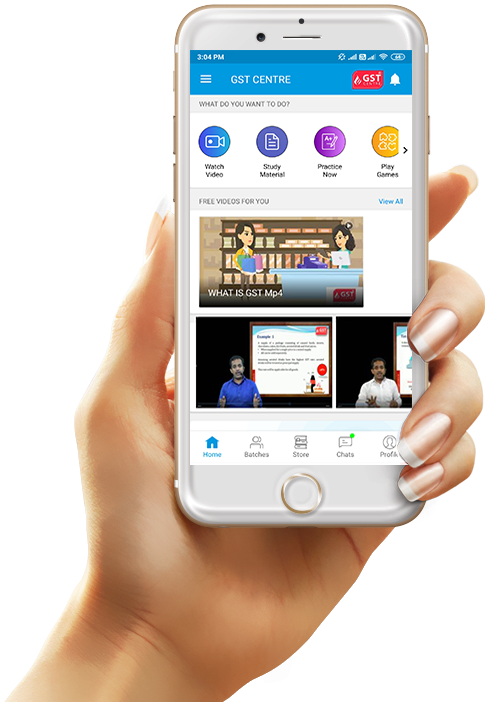 • Free Video Tutorials
Getting Knowledge is easy for you and now absolutely FREE Videos are given to enrich your knowledge in GST. Concepts are explained with Short Videos for easy understanding. Interested animated videos are also given.
• Study Notes
Reference Notes are provided in PDF formats. With the help of this feature, students get maximum benefit as they can download and study GST whenever they need to learn. Learning GST through mobile app is quick & effective.
• Test Your Knowledge
We have included assessments in the Mobile App to test the understanding. You will be able to give this test and test their knowledge. By this, they can know in which topics they are weak and have to put more effort.
• Announcements
The app also includes a good notification feature that informs about all the required updates. Latest GST updates and news will be informed. Students and parents get notified about any event or change in schedule or announcement.
• Customized Courses made easy
You can join for Customized Premium Courses to get the best training for developing your skills.
o Video Tutorials focusing on practical aspects.
o Theory Classes with real world scenarios.
o Live Chat with Faculty and Batch mates 24x7.
o Practical Sessions in Simulation Software.
o Online Assignments.
o Learning Kit with Printed Study Materials.
o Globally Recognized Certification.
o EMI Facility for Fee Payment.